South Carolina's PTAs are in crisis. A Sumter elementary school has a recovery plan. | Charleston SC
[ad_1]

SUMTER — Two women were moving around rows of tables in Millwood Elementary School's cafeteria debating how many people would show up to a Parent Teacher Association meeting that evening. Before the coronavirus spread across the country, about 500 people would show up to the meetings, a large number considering Millwood has fewer than 700 students. 
But attendance plummeted as the pandemic stretched on until the group was lucky if 20 people showed up for a Facebook Live meeting. 
Debbie Flynn, the PTA's president, predicted that 100 people would show up to the event that was being held in conjunction with the school's science fair. Ashley Filcher, the treasurer, was hoping that at least 50 people would make it. 
PTA organizations across the country have experienced severe drops in participation since the start of the pandemic, according to Heidi Wilson, senior manager of media relations for the National PTA. PTA and Parent Teacher Organizations are often seen as groups that organize small-scale bake sales or host meetings where parents sit around and gossip, but well-run ones often shape the entire culture of a school or serve as the drivers for parent outreach efforts. This is important because education authorities have repeatedly found that parental involvement in their child's education is the most predictive indicator of a student's success.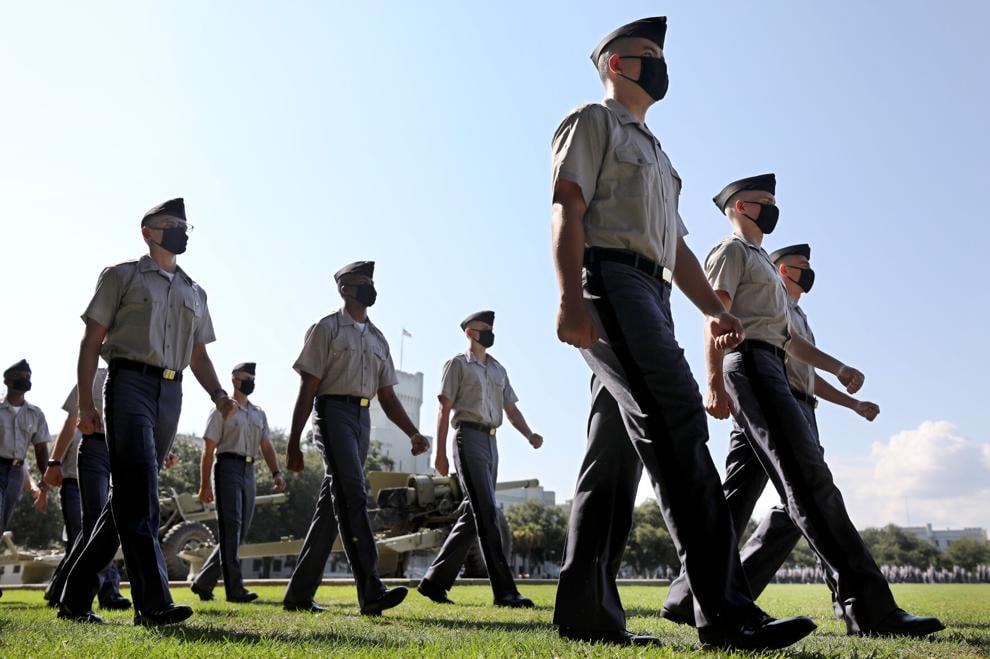 A Post and Courier analysis of 1,081 South Carolina public K-12 schools' websites found that these organizations are rarely at the schools that need them most. Less than 10 percent of schools where half the students are Black have a PTA or a Parent Teacher Organization. This number drops to about 3 percent when the student body is over 75 percent Black.
The same is true for schools where most of the students are in poverty: Only 34 percent of schools where over half the students are economically disadvantaged have a PTA or PTO.
Millwood is split pretty evenly between Black and White students. And it is a Title 1 school, meaning that children from low-income families make up almost half of the population. It connects with these families by opening the school up to parent volunteers and encouraging them to join groups like the PTA. It also makes PTA meetings into family events centered around student activities. Parents can bring their children to a meeting where details about fundraising efforts and school status updates are broken up by arts performances and prizes given out to students for academic achievements.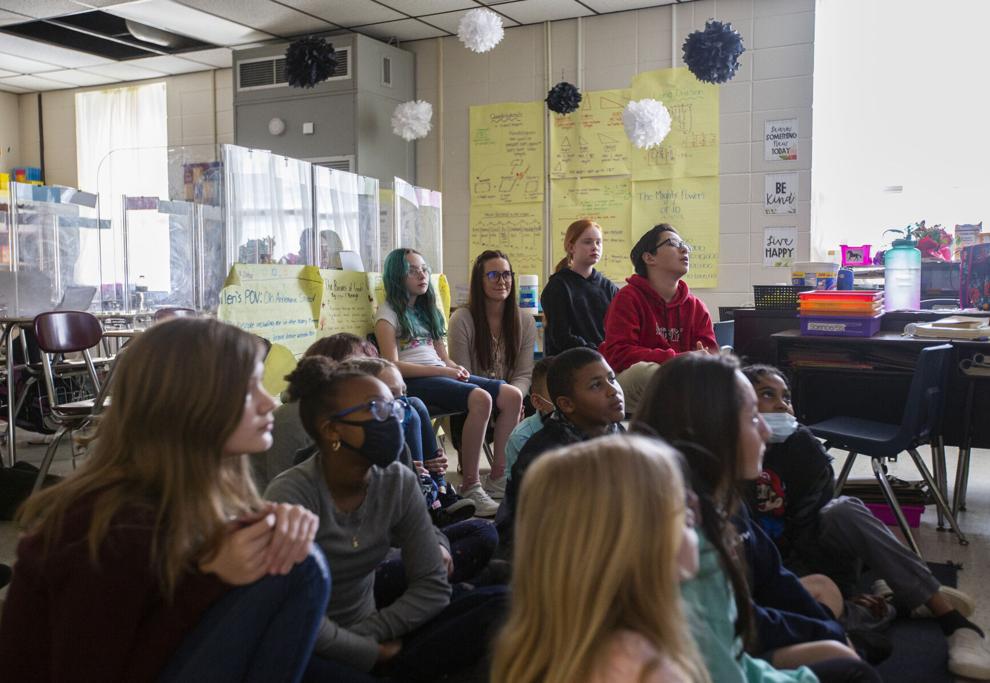 Flynn knew her PTA was at a crisis point and its future hung on her ability to recruit more parents during this event. The meeting was scheduled to start at 6 p.m., but parents and teachers typically showed up early. It was already 5:30 p.m. and Flynn and Filcher were the only ones there. Flynn watched the cafeteria doors, praying she'd be right and that the school would continue on as the same inclusive community that welcomed her before the pandemic disrupted everyone's lives.
Fitting in
Sumter is a rural region in South Carolina's Midlands full of strip malls and dollar stores. Houses are grouped together in tight clusters. They don't give these neighborhoods names, but if someone says they live by the Shaw Air Force Base or by Pinewood Road, everyone knows where that is. The area is divided fairly evenly between Black and White residents. Most don't have a college degree.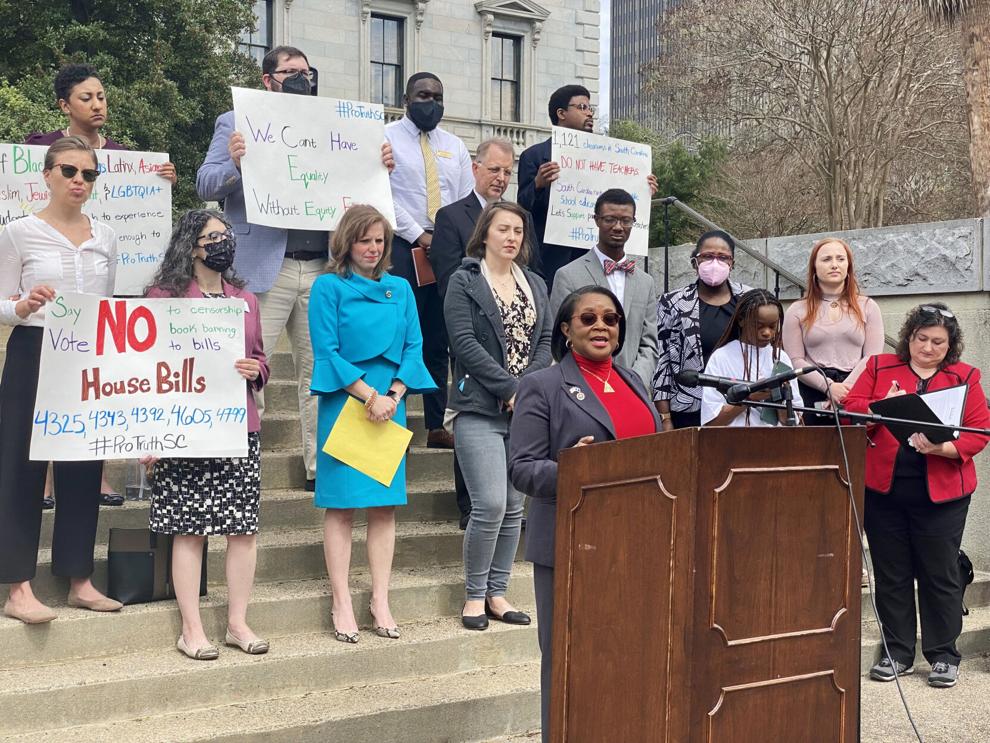 Susie Atkinson, a former president of Millwood's PTA, attended the elementary school herself in the late 1980s. Back then, the school was smaller and the area was filled with people who were born in Sumter and stayed their whole lives. This changed as more people moved to the region because of the air base or Continental Tire's plant, which brought in a lot of families from overseas.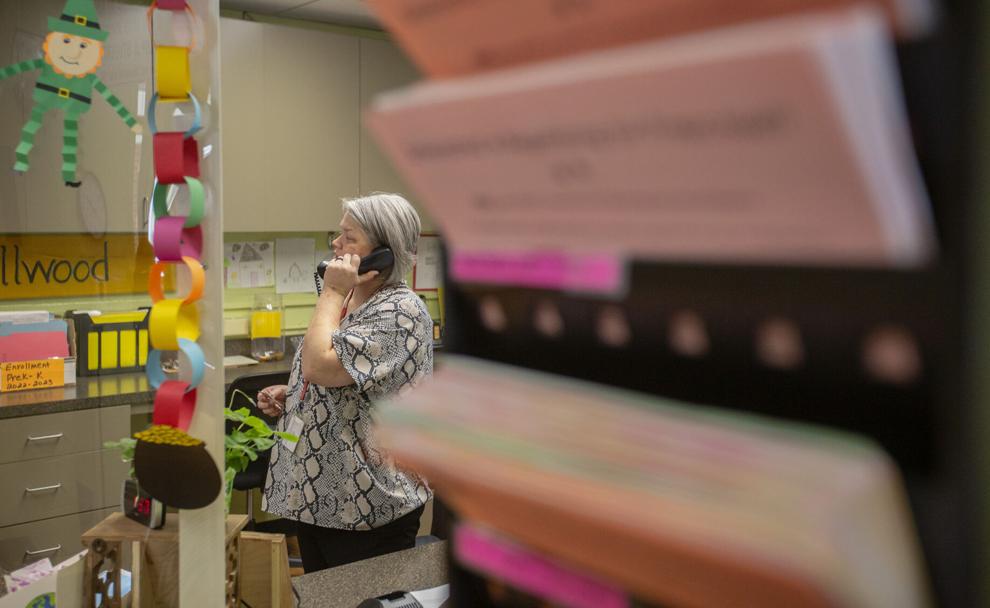 Atkinson sent her two sons to Millwood and joined the PTA in 2016. Back then, the PTA only had five members, but that changed the following year when Cornelius Leach became principal of the school.
The district covered the cost of background checks of anyone who volunteered in the school, so he decided to make the school more accessible to parent volunteers. The PTA was coordinating its meetings with student events at the school. People could bring their entire family to a meeting and learn about what the school was doing while watching a student choir performance or academic fair. Soon hundreds of people were showing up. 
Flynn moved to Sumter from Las Vegas in 2019. Her husband was active-duty military and came as part of a remote pilot and aircraft unit that transferred to the area. She was a military wife, so she was used to relocating and adapting, but she was still nervous about fitting into a region that was largely filled with lifelong residents.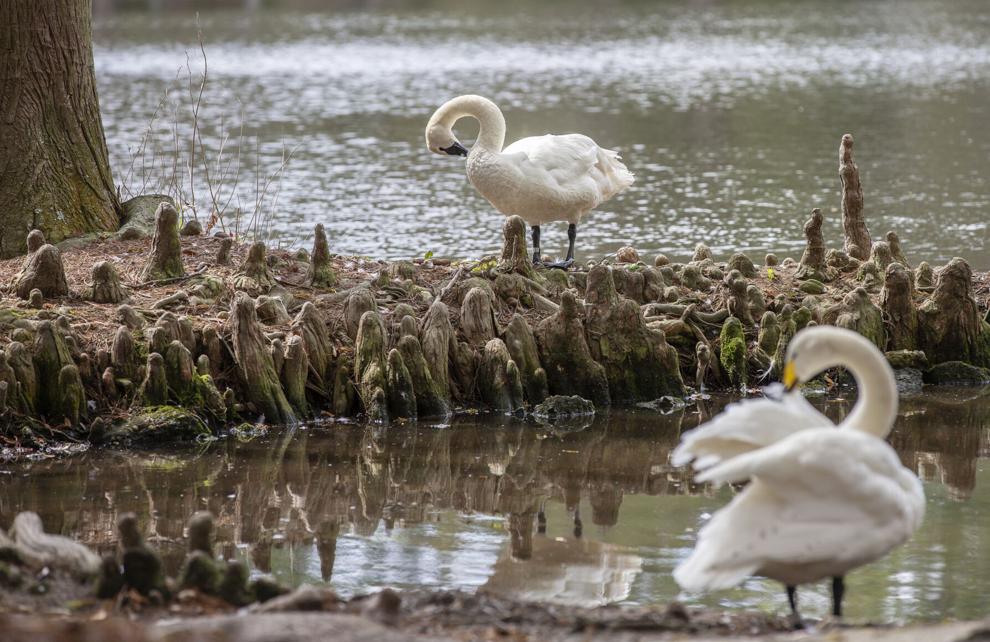 Soon after her twin daughters started kindergarten, she decided to become a classroom volunteer. That September, Filcher approached her and asked her to help with the PTA. They were short-staffed that day and Filcher needed help with the PTA-run school store where students could purchase snacks and other goods with Mustang bucks, currency named after the school's mascot, that students earned for acts of kindness.
Flynn had heard horror stories of cliquey PTAs, so she was skeptical about joining, but when she attended her first meeting she saw how inclusive the group was. The meetings were attended by Millwood families from a variety of backgrounds and felt more like a community event than a tedious sit-down. Within weeks, Flynn was on the board. She felt like a true part of the school community and believed she would be friends with the other PTA members for the rest of her life.
Then the pandemic hit. 
Why PTAs matter 
Ann Henderson, a senior consultant at the National Association for Family, School, and Community Engagement, grew up in a family that always rooted for the underdog. Whenever they watched sports, they cheered for the team that the odds were stacked against. She was raised in Trenton, N.J., back when the Roebling family known for building the Brooklyn Bridge was there recruiting workers from all over Eastern Europe to work in their factories. She joked that they promised these immigrants the world, and then they got Trenton.
She spent her childhood hopping between her city's Italian and Polish neighborhoods, taking in the different cultures, but didn't consider herself politically active until college. After she finished her freshman year at Oberlin College in Ohio, she attended the 1963 March on Washington where Martin Luther King Jr. gave his "I have a dream" speech.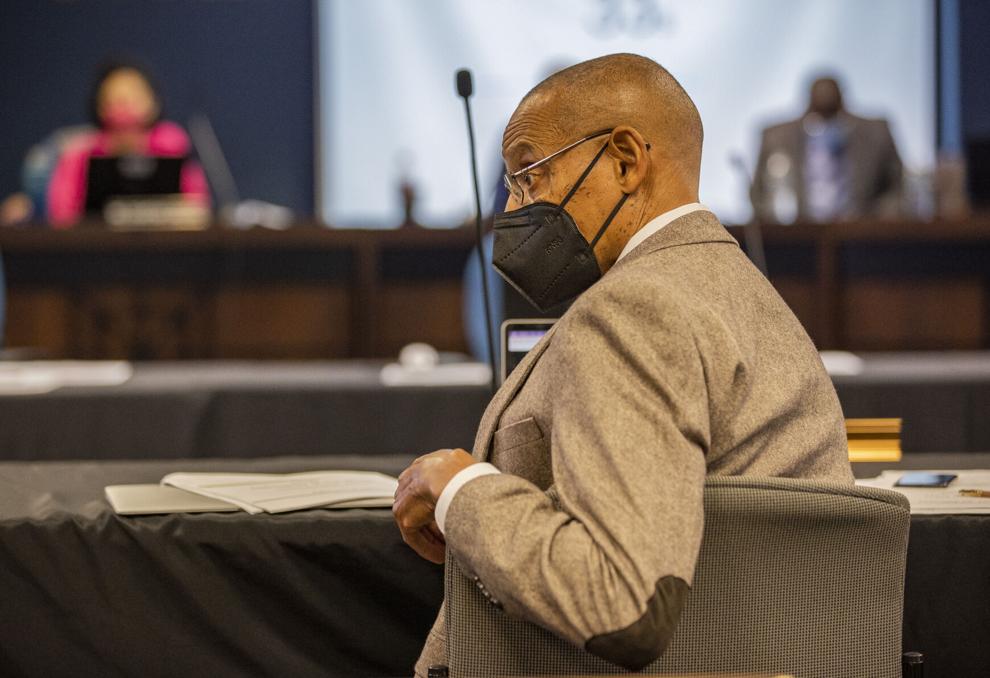 Before King began speaking, she and many other attendees were sitting around the Mall. When he started giving his speech, they all stood up and surged forward. 
"I thought, this is what it means when people call it the civil rights movement, people surging forward, coming together for a common purpose for everyone's benefit and working together toward it," she said.
After she graduated from college she worked at an antipoverty group and was reading the research on the debilitating impact poverty could have on children. She began visiting what she called fortress schools, meaning they made it difficult for parents to enter. These schools were filled with "Keep out" and "No Trespassing" signs. She sometimes struggled to find out how to physically get into the school because all the doors were locked. A couple of times, she had to go around to the back of the school by the dumpster to find an intercom connecting her with someone inside. 
Many of these schools believed that they were great centers of education, but the reason they were not performing well was there was something wrong with the local families and children who were sent there. Henderson wanted these schools to look themselves in the mirror and properly address their own failings.
She began researching the link between parental involvement in education and students' success in 1981. Henderson became interested in the subject after reading a paper by a fellow education researcher that uncovered a link between schools with PTAs and higher student achievement. She wondered, "If a school having a PTA could have a measurable statistical effect, what other forms of engagement can?"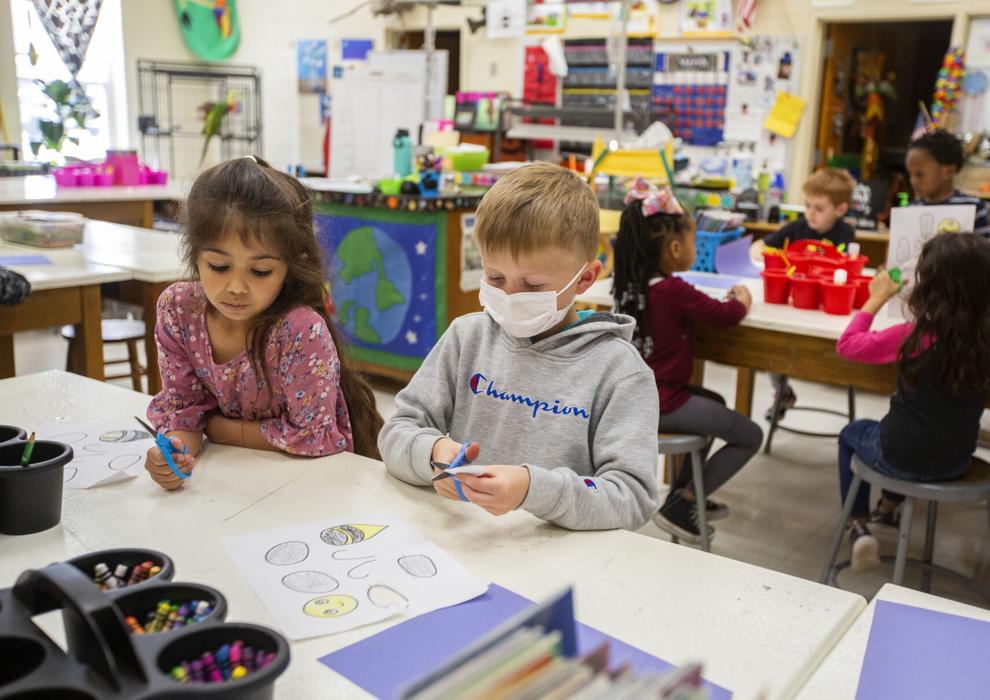 Over the following two decades, she authored several seminal research reviews looking at the link between parent engagement and student academic performance and healthy development. In the early 2000s, she partnered with Karen Mapp, who works as a senior lecturer at Harvard University's Graduate School of Education, to perform a research review on the link between parental involvement in education and the performance of students of color and students from low-income families. They found that, regardless of a student's background or income, they tended to earn high grades, attend school regularly, have better social skills, and graduate and go on to postsecondary education if their parents were involved with their school.
Historically, schools don't tend to reach out to families of color and low-income families, and these parents are often afraid of coming into a school and advocating for their own child's education. Henderson noticed that schools that reached out to these families tended to perform better because the feelings of trust and inclusion spread throughout the school's culture.
Relationships between schools and these families were especially important during the pandemic, where students of color and students in poverty had their education disproportionately impacted. Henderson observed that schools that engaged with these families through Zoom check-ins, helped deliver instructional materials, or assisted them with getting access to Wi-Fi experienced less learning loss. 
While the pandemic was an extraordinarily pervasive catastrophe, Henderson pointed out that smaller events shake up a school district all the time. Some examples are a factory closing and scores of families losing their jobs, or many families from overseas immigrating to a new community who needed help learning how to navigate the school system. It's important for schools to set up pathways for parents to advocate for themselves, and PTAs and PTOs can help bring parents into schools. 
There are negative sides to these organizations. Often, PTAs and PTOs are filled with White parents who don't reflect the background of the student body. PTAs and PTOs in schools with wealthier families also tend to raise more money during fundraising events than those where families are less economically advantaged, exacerbating already-existing economic disparities between schools.
But The Post and Courier's analysis of more than a thousand K-12 public schools' websites found that schools where the majority of the student body were students of color or low-income children didn't even have these parent groups. Now the few that do are facing additional challenges as their participation rates crash during the pandemic. 
Virtual world
Flynn got her real estate license right before the pandemic hit. She spent five years as a stay-at-home mom, something she struggled with because she described herself as a go-go person. She was excited to start a new career, but when her daughters were thrust into virtual learning she had to put her plans on hold. 
Her daughters were still in kindergarten and remote learning was difficult. Instead of spending time in class interacting with their teacher and playing with their friends, they had to sit in front of a computer for five to six hours a day. One of her daughters adapted well to the virtual classes, but the other struggled to sit still.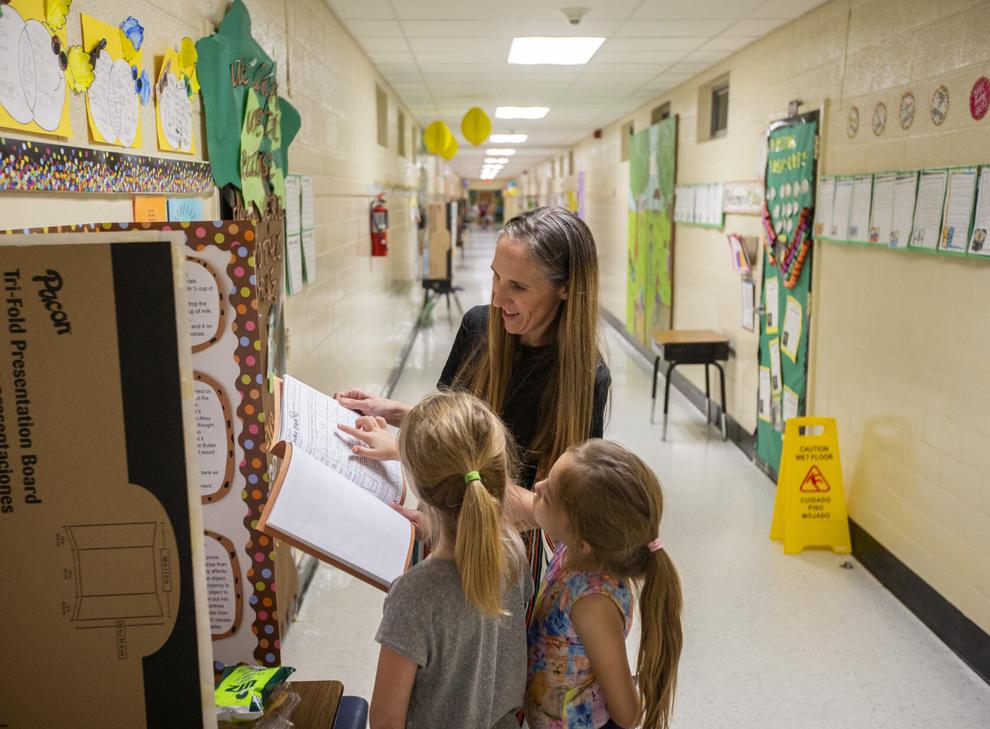 Flynn was concerned about the friendships she made with Millwood parents during the fall. She had only lived in Sumter for a year, and been with the school for eight months. She worried her friendships would fizzle out. The PTA held meetings over Facebook Live, but sometimes only 10 people showed up. This was a problem impacting PTAs around the state. Tanya Robinson, the former president of the S.C. PTA, told The Post and Courier membership dropped by approximately 20 percent from 72,000 in 2017 to 58,000 in 2020.
Flynn understood why parents weren't as engaged: Dues were only $5 annually but many parents were struggling financially. Others didn't come because they weren't coordinated with student performances or academic events. Many weren't showing up because they couldn't see what their time and money were going toward since they weren't allowed in the school. 
The PTA worked hard to help parents stay connected with Millwood by gathering volunteers to contact families whose children didn't show up to class or turned off their videos during lessons. By the spring of 2021, Flynn and the other PTA members knew their participation rates had reached a breaking point, and the only thing that would save them would be returning to in-person learning. At a meeting in May right before the school year ended, the PTA members suggested that Flynn be president.
After a second of deliberation Flynn told them that she would do it: During the 2021-22 school year she would take on the responsibility to turn the entire PTA around.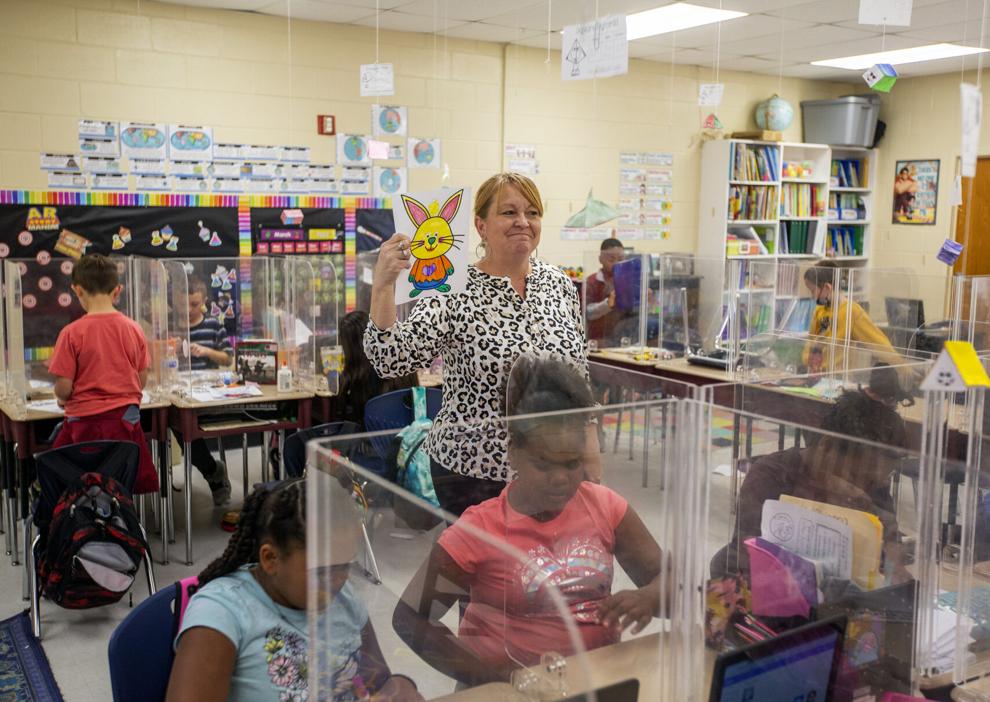 Meeting in person 
In the beginning of August, Flynn and four other members of Millwood's PTA gathered in her kitchen to go over the events planned for that year. COVID-19's highly contagious delta variant was spreading through the state, but the PTA members tried to remain optimistic as they snacked on dishes everyone had brought for a lunch potluck. As the children yelped and squealed outside playing in Flynn's pool under the supervision of one of the PTA member's husbands, Flynn laid out her goals for the year.
The PTA needed to recruit new members. Flynn was grateful for the help of the four women who came to her home to strategize that day, but she was also acutely aware of the stark contrast between the number of people present at that day's meetings and those she attended when she first joined the organization.
None of the women in attendance that day predicted how rapidly the delta variant would tear through student populations. A Post and Courier analysis of S.C. Department of Education data found that during the first seven weeks of the 2021-22 school year, at least 15 districts and 233 schools returned to virtual learning, and 156,169 students went back to learning remotely. 
Millwood's PTA acted fast: It partnered with a local farm and gave families the opportunity to buy fresh vegetables at a discount. When some students were able to return to class but larger gatherings were still prohibited, they held a virtual dance-a-thon where families pledged a certain amount of money based on how long their child danced with the rest of their class over Zoom. In December, when the delta variant was dying down, the association was able to put together a last-minute winter wonderland-themed party at the school celebrating students who performed well in the accelerated reading program. They handed out cotton candy that looked like snow, white doughnut holes, and created snowballs made out of cotton balls and wool for snowball fights.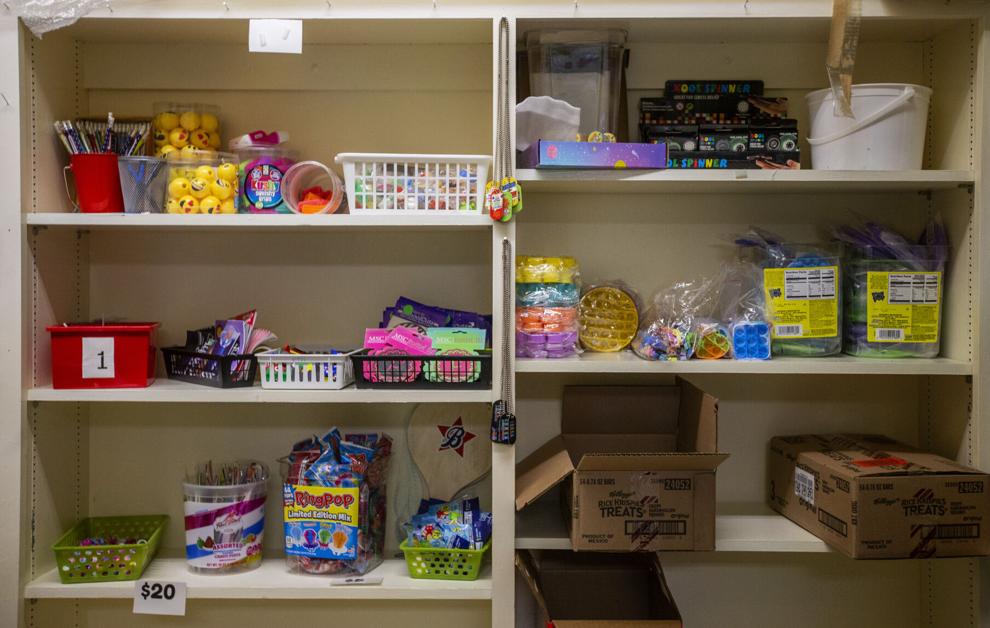 Parental involvement was critical because, like many schools across the country, Millwood suffered from pandemic-related learning loss. In the 2019-20 school year, approximately 53 percent of its students met or exceeded expectations in English Language Arts, according to the S.C. Department of Education's school report card. This dropped to about 41 percent in the 2021-22 school year. 
When Flynn got the go-ahead to host an in-person PTA meeting on March 22, she knew how critical the event would be for both her association's future and for the school. They planned on doing a joint event with the school's science fair to help draw in parents, but Flynn was still worried about the PTA's ability to connect with them after so long. She forced herself to quell her anxiety, telling herself over and over again that parents would turn up.
A good crowd
Parents and children began trickling into the cafeteria around 5:40 p.m. By 6 p.m., the place was packed with about 100 people sitting shoulder-to-shoulder at the cafeteria tables. Some people showed up in military garb, some in jeans, and others in dresses and heels.
As they came in, Filcher handed out raffle tickets at the door and a sheet explaining what the PTA was with a QR code that brought them to the website. She asked each of them to sign up listing all the great things the organization has accomplished. 
Donate to our Investigative Fund to support journalism like this
Our public service and investigative reporting is among the most important work we do. It's also the most expensive reporting we do. We can't do it without your support.
The meeting illustrated why Millwood's PTA was so successful in connecting with parents. It started off with Flynn speaking at the podium in front of the room, giving parents basic information about how to get more involved with the association. Then Leach announced the science fair winners, making the event feel like a celebratory party rather than a meeting. Filcher was next, discussing the over $13,000 the PTA raised that went to financing the school's store and other activities. 
Afterward, the winner of an essay contest hosted by the Daughters of the American Revolution was announced. This was followed by updates on the school's mental health outreach efforts, a raffle drawing and a presentation of trophies to the class in each grade that was doing the best that quarter in the school's accelerated reading program.
This strategy of requiring families to attend a PTA meeting if they wanted to participate in the science fair drew in members of the community. Breaking up the more technical information about the PTA and the school with prizes for students and parents both kept them engaged and showed them how much Millwood students were accomplishing. 
After the meeting, parents were given the opportunity to walk around the school and see the students' science fair displays. Flynn hung back in the cafeteria, on an adrenaline high after pulling off a successful event. 
"I'm glad it's organized this way," she told Filcher. "We didn't want the parents to come to the science fair and just leave."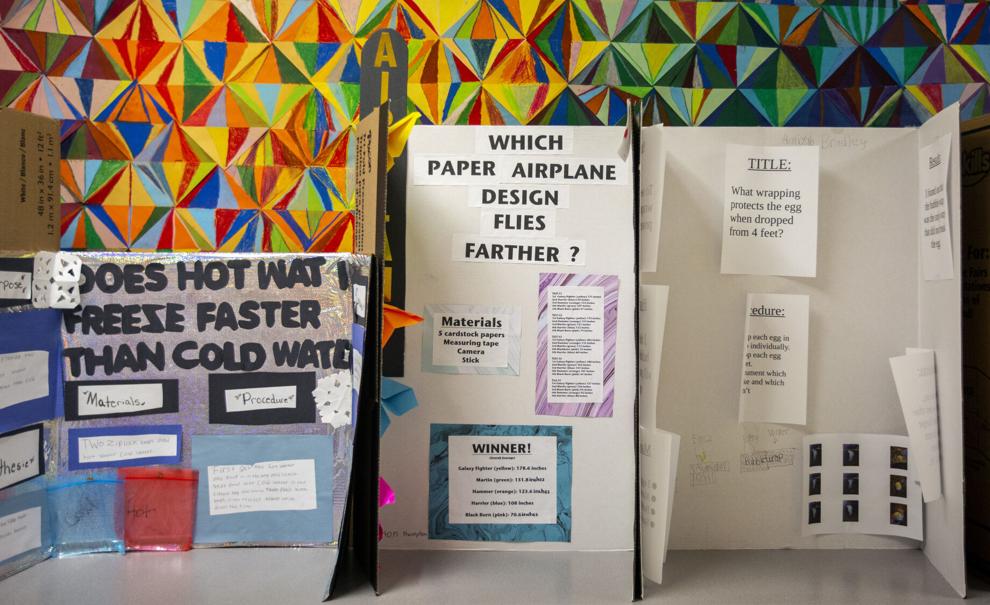 Her daughters ran up to her and took her hands. They walked down looking at poster boards of science experiences that showed different types of mold that grew on sandwiches or which type of juice best cleans a penny. Families were talking to each other and showing off their children's accomplishments, walking freely through the school for the first time in years. 
How we did our analysis:
The Post and Courier looked at school's websites for this analysis: If a school's PTA or PTO was not mentioned on the site, it was not included. Magnet and charter schools were excluded from the analysis, as well as technical schools, early childhood schools, and Juvenile Justice academies. PTSA organizations were grouped with PTAs and PTSOs with PTOs.


[ad_2]

Source link