USAF F-117 Integrated With U.S. Marine Corps F-35B Involved In 'Lightning Carrier' Concept Demo
[ad_1]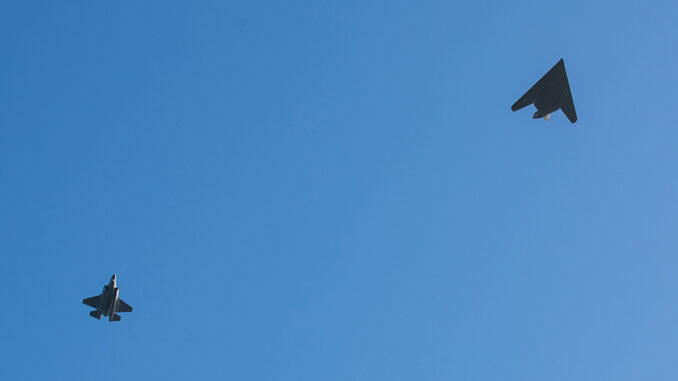 During "Lightning Carrier" Concept Demonstration, amphibious assault ship USS Tripoli operated with a record 20 F-35Bs.
The U.S. Marine Corps loaded a whopping 20 F-35B aboard the USS Tripoli (LHA-7) as part of the "Lightning carrier" concept demonstration last week. The purpose of the demo was to show Tripoli and other amphibious assault ships' ability to operate as dedicated fixed-wing carrier platforms, capable of bringing fifth generation Short Takeoff/Vertical Landing aircraft wherever they are required.
The 5th generation aircraft that took part in the "Lightning Carrier" belonged to two operational squadrons: 16x F-35Bs were from the "Vikings" of Marine Fighter Attack Squadron 225 and the "Wake Island Avengers" of Marine Fighter Attack Squadron 211 (that took part in the joint deployment with the RAF 617 Sqn aboard HMS Queen Elizabeth last year, both based at Yuma Marine Corps Air Station, Arizona; 4x were from Marine Operational Test and Evaluation Squadron 1, based at Yuma and New River, N.C.
The aircraft were involved in multiple launches and recoveries testing the ability of the amphibious assault ship to sustain a surge of sorties but the one-week demo focused also on the procedures for moving, maneuvering and working on the F-35B jets aboard the ship.
Based on the photos released during and after the demo, more than half the Lightnings (11 out of 20 F-35Bs), were not carrying radar reflectors/luneburg lenses, meaning that they operated in "stealth mode" (although some had some peculiar configurations):
The lack of RCS enhancers + simultaneous presence of the external rail launchers is possibly even more interesting. I don't think I've ever seen this configuration. I'm not sure of the RCS penalty induced by the pylons with rail launchers though.

— David Cenciotti (@cencio4) April 6, 2022
Interestingly, the Lightning Carrier demo included also some joint activity the U.S. Air Force F-117s. Two U.S. Navy photos released on Apr. 8, 2022, shows an F-35B Lightning II aircraft attached to Marine Fighter Attack Squadron (VMFA) 122 and an F-117 Nighthawk fly over amphibious assault ship USS Tripoli (LHA 7), on April 5.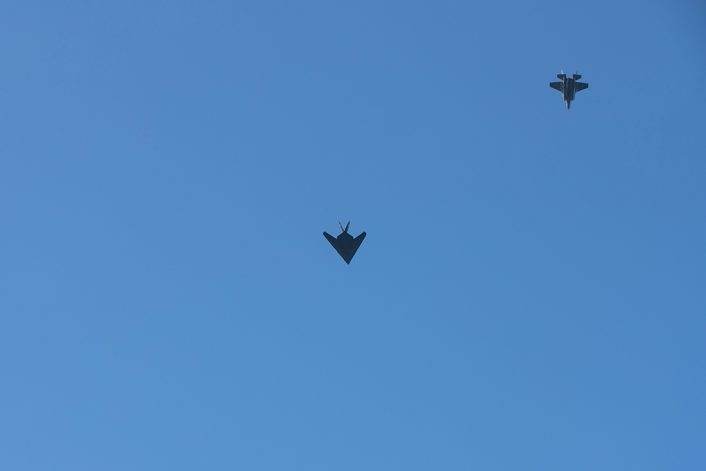 No other detail about the integration mission but it's worth remembering that the iconic stealth jets have have teamed up with the USMC Lightning IIs, conducting DACT (Dissimilar Air Combat Training) with the F-35Bs of the Marine fighter Attack Squadron (VMFA) 225 "Vikings" of Marine Aircraft Group (MAG) 13, 3rd Marine Aircraft Wing, U.S. Marine Corps, deployed to MCAS Miramar from MCAS Yuma, in February this year.
On Apr. 5, the F-117 was also spotted over Los Angeles probably on its way back to Tonopah Test Range supported by a tanker.
Talk about a #AvGeek Spotting!!! Heres a #USAF KC-135 tanker c/s COPPER04 HEAVY w/ a #USAF #F117NightHawk #StealthFighter in tow..(yes the "retired" ones) passing over today on a mission to the south of #LosAngeles #StealthFighter #F117 04-05-22 pic.twitter.com/zuD7kYCuUm

— Matt Hartman (@ShorealoneFilms) April 5, 2022
As explained in various articles, while some of the F-117s that were retired in 2008 and initially kept in a "Type 1000" storage at Tonopah Test Range have now been disassembled and transferred to museums around the U.S., F-117s have continued to fly over Nevada and California. We have reported sightings in 2018, in 2019 and also 2020. After all, the F-117s are not completely retired, quite the contrary.
As of January 2021, the U.S. Air Force had 48 F-117s remaining in its inventory. The service is disposing approximately four aircraft each year, meaning that about 44 should be still available. Along with flying the adversary stealth role taking also part in Red Flag missions or deploying to airbases across the U.S. as reported, the Nighthawks are most probably also supporting the development and testing of stealth or counter-stealth technologies and tactics, as some photographs showing at least one airframe sporting a mirror-like coating similar to the one applied to two F-22s (one that has appeared quite recently) and to an F-35 seems to suggest.
NIGHT01 (F-117A) from Tonopah spotted near Edwards AFB inside the R-2508 complex wearing a chrome finish, March 2022.

© Scott Mantegani pic.twitter.com/xhtTqAKnLl

— Aircraft Spots (@AircraftSpots) April 4, 2022
Back to the Lightning Carrier, "The concept takes a page from history" says Gidget Fuentes on a report published by USNI News. "In the invasion of Iraq in March 2003, amphibious assault ship USS Bataan (LHD-5) and USS Bonhomme Richard (LHD-6) were dubbed the "Harrier carriers," each supporting two squadrons of AV-8B Harrier attack jets for Commander Task Force 51 as U.S. and combined forces pushed toward Baghdad. The ships at the time typically had a detachment of Harriers among an aircraft mix composed largely of Marine Corps helicopters."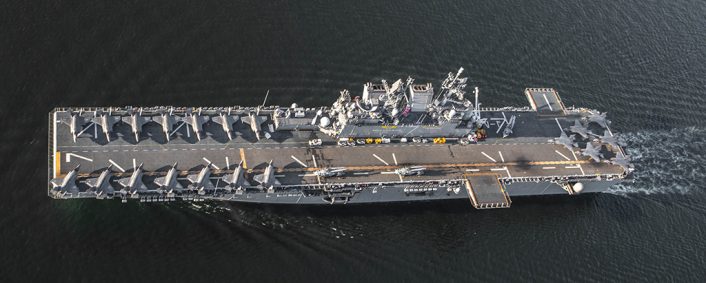 In 2016, a gathering of 12 F-35B was part of a joint US Navy (USN)/ US Marine Corps (USMC) "Proof of Concept" demonstration aboard USS America held off the coast of Southern California. The PoC tested the ability of the America class to operate more than a dozen F-35s from its flight deck which is much smaller when compared to a Nimitz class flattop. In 2019, 13 F-35B Lightning II aircraft with VMFA-122 landed on the amphibious assault ship USS America (LHA-6) in the Pacific ocean. The most recent Lightning Carrier demo set the max capacity at 20.
The USS Tripoli (LHA-7), returned to port at Naval Air Station North Island, California, on Apr. 7, 2022.
US Navy amphibious assault ship USS Tripoli (LHA-7) returns to Naval Air Station North Island, California on April 7. It supported the operation of 20 US Marines F-35B for Lightning carrier concept demonstration which showed that it can operate as dedicated fixed-wing platforms. pic.twitter.com/mIryL2I4F3

— Ryan Chan 陳家翹 (@ryankakiuchan) April 8, 2022


[ad_2]

Source link